February, Multifocal Motor Neuropathy (MMN) Awareness Month
Ways to Get Involved in Awareness Month!
If you have MMN, or know someone who does, you are not alone.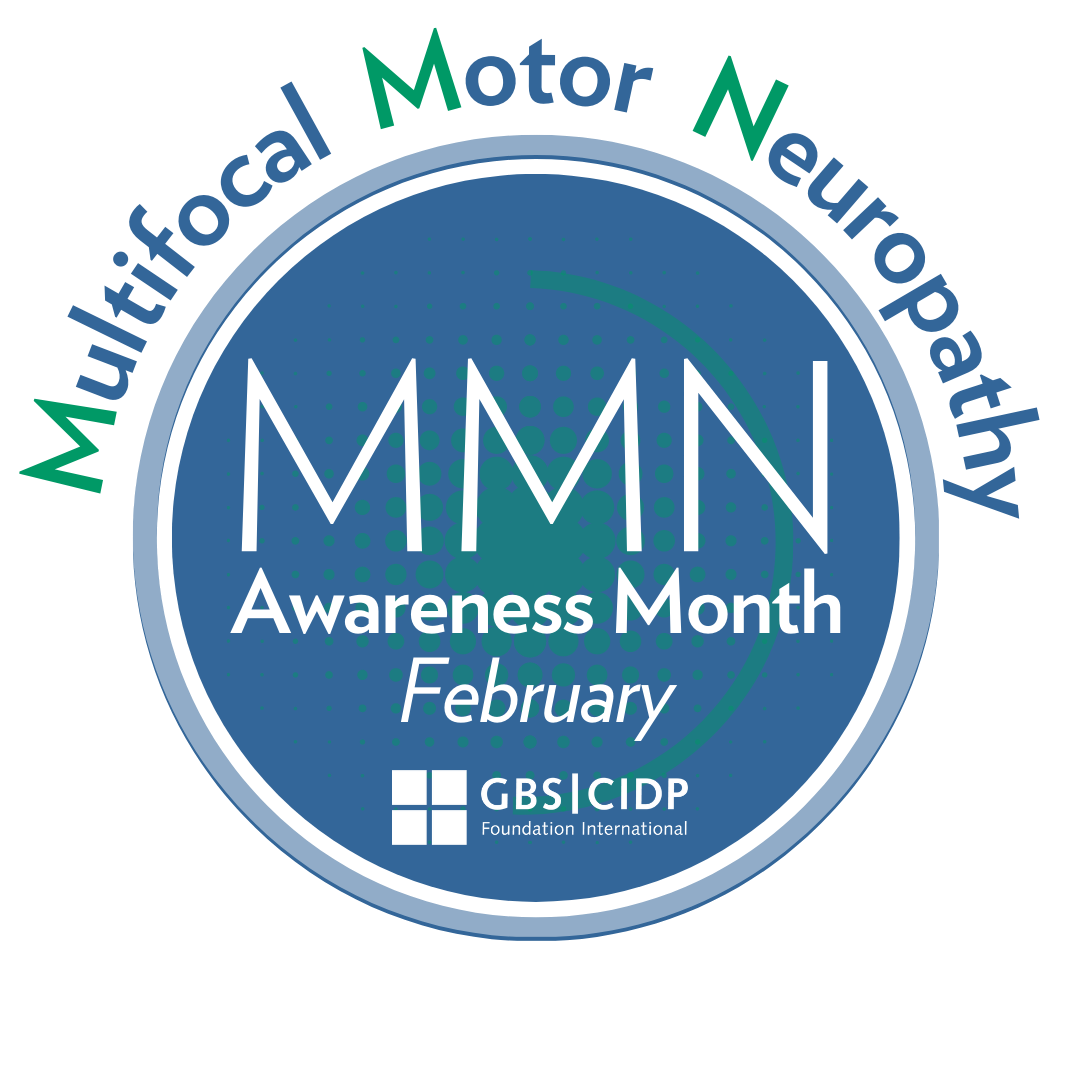 MMN (Multifocal Motor Neuropathy) is a rare disorder in which focal areas of multiple motor nerves are attacked by one's own immune system. Typically, MMN is slowly progressive, resulting in asymmetrical weakness of a patient's limbs. The clinical course of MMN is chronically progressive without remission and the prevalence of this very rare disease is estimated to be 0.6 cases in every 100,000 people, which makes it even rarer that GBS and a spontaneously self-limiting disorder in which 1-2/100,000 cases occur each year in North America and Europe. (More information on MMN is available.)
In fact, in recent years, more and more patients and caregivers from around the world have reached out to the Foundation for support with MMN. During February, MMN Awareness Month, the GBS|CIDP Foundation International will bring even more focus to MMN research funding as well as unique ways to connect to our MMN Community. Many events and initiatives have already been planned, and the Foundation has designed a variety of ways for patients, friends and family of those affected, to learn more and show they care for MMN. See below for our resources and ways to get involved all month long.
Support our MMN Research Grant! Although we are dedicating February to MMN awareness, our MMN members need your support all year long. Please consider a donation today, or whenever possible, to our MMN Research Grant Fund, and be a part of the solution for those suffering with MMN.
Join us on Tuesday, February 7 at 1pm ET as MMN patients across the word meet, connect, and share their journey with one another during this virtual Zoom coffee chat.
Read MMN patient and caregiver stories, like Clive Phillips, and get inspired! Click here.
Project Plasma is an initiative created for college students who are interested in creating awareness about plasma donation on their campuses.
This whiteboard-style video will provide you with a basic understanding of MMN and answer some of your questions. It's a great way to teach your family and friends about what's going on with your body!
Ask the Experts
LIVE MMN Ask the Expert Webinar on February 28th, Rare Disease Day, featuring MMN patient Clive Phillips & special guest to be announced. Registration coming soon!
Want to support MMN Awareness Month and the Ride for MMN? Click here to purchase a t-shirt and MMN awareness apparel on our new Bonfire site
Raise awareness on social media all month long! Download the materials below to raise awareness for MMN on social media. Share, post, and don't forget to include the website and tag the Foundation! To download materials, right click one of the images and click Save Image. You can also directly share these images by visiting any of our social media channels. Any questions regarding social media awareness please contact info@gbs-cidp.org.